Free website builder software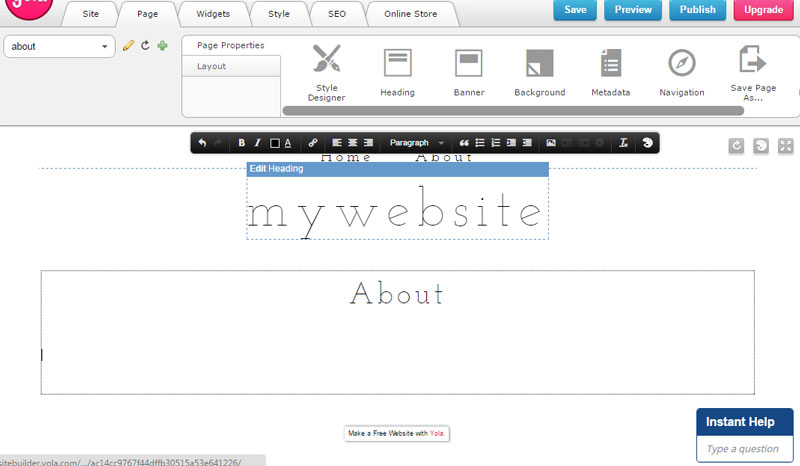 Running a business without an online presence is impossible. It doesn't matter whether you're selling baubles online or setting up a storefront on the beach; if you don't have a website then your business is going to suffer. Thankfully, there are sites that make setting up a new site quick, easy, and relatively painless. Here is our review of the Yola Website Builder.
Overview
Getting started with Yola free website builder software is simple. Simply click "Start for Free," and enter your name, email address, and a password to get started.
Features
The free account offers css responsive menu, 10 templates to choose from, all of which are sleek and could be used to easily make a professional-looking website. All of the account types include features like access to the site builder, password protection, and an optimized design ideal for search engines. Site statistics is also a fantastic tool to help you improve your search engine ranking, since all of the information about views and clicks will be right at your fingertips.
Ease of Use
The only problem we ran into is that the site builder isn't compatible with some browsers. Opera is the default browser here, and using that prevented the site builder from loading. That, however, was easily fixed with a quick switch to Google Chrome.
All of the tools that you could possibly need are organized in easy to navigate tabs at the top of the web-based site builder. You can modify the site, customize each individual page, and add social media, ecommerce, or media based widgets all with a couple of clicks. Need a share button or a PayPal link? It's all right there at your fingertips.
Mobile Friendly
The free and basic sites are not mobile friendly. To optimize your site your mobile users, you will need to upgrade to a Professional (Silver) or Ultimate (Gold) account.
SEO
The site builder does provide an SEO scan to help you optimize your website for search engines, but it is only available in the Ultimate (Gold) account. That said, you can access the site statistics on any account type, so you can use that to track your site, your keywords, and the things that may need to be adjusted.
Pricing
A basic website, which includes 3 web pages, and a gigabyte each of bandwidth and storage, is free. To add features like a custom domain name, premium templates, or to create a website that is mobile friendly, an upgrade to a premium account will be required. Basic plans run $5.95/month, where professional and unlimited plans run $12.95/month and $24.95/month, respectively. The site does offer discounts if the account is billed yearly though.
Conclusions
Overall, this seems like an easy to use site builder that could be used for just about anything. The features of the free account are a little lacking, but that is to be expected and the prices of the premium accounts are not so high that they couldn't be easily affordable.
If we were handing out stars, this Yola Website Builder review would get 4 out of 5 stars. It's easy to use, but the preoccupation with the premium accounts tends to leave a sour taste in your mouth. Don't plan on using Yola for an online store unless you want to upgrade to their Ultimate plan.
Copyright © 1998-2021
Apycom
(menus)