Wix free website maker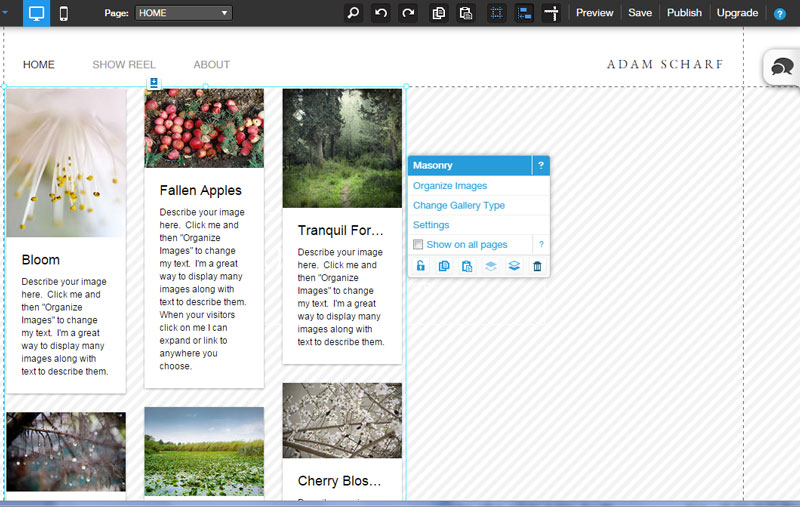 Wix isn't the most widely used website editor--that belongs to Wordpress--but it is popular enough that you've likely run across the name while looking for an online design tool. For the money and features, they host more sites than you might assume--up to 60 million last count. So is Wix worth a look? Does it meet the needs of personal and business users, at a respectable price? .
The Wix subscription plans come in five flavors, ranging from Basic at $4.08 per month to VIP at $24.90 per month. Between those are the $9.25/mo Combo plan for personal use, the $12.42/mo Unlimited targeted to microbusiness, and the $16.17/mo eCommerce package for small businesses.
If what you want is a small personal site, the Basic and Combo plans do well. Beware of the fine print in the Basic, though. Wix embeds advertising into those plans, so you'll have to contend with distractions being forced into your content. If you're running a site where the content needs to star, it's worth springing for the Combo, at a minimum. Wix is obviously pushing for users to take the middle of the road Unlimited plan, as it boasts most of the features of the upper level plans, along with unlimited bandwidth. Above the Unlimited, you really only gain some storage space, or in the case of the eCommerce package, you actually lose bandwidth. The eCommerce is limited to 10Gb of bandwidth, whereas Unlimited and VIP are both, well, unlimited.
The application itself tries to be a true drag and drop bootstrap builder, and is mostly successful. While they give a lot of freedom in the designs, it can be overwhelming and lead to some odd issues in alignment. It doesn't coerce you into aligning elements to a grid. You can put them anywhere, literally. Aside from that, the learning curve is easy and most users will adapt quickly. Just make sure to frequently test while you're working.
The other features included are comparable to the competition. Wix free website maker features over 500 templates, available to every service plan. However, once you build your site, it stays. You can't port it to another service and keep your design. Mobile design is possible, and nearly as freeform as the full templates. This may work for or against you, depending on your design abilities. And finally, the eCommerce options are more numerous and cost less than most builders, as long as you subscribe to a plan that allows it (eCommerce or VIP).
As for support, Wix delivers. If you have any questions while making a site, there is helpful information built into the software. Look for small question mark buttons on the elements. Click one and you're greeted with information about that element. Failing that, you can check out their online forum to see if your questions has already been asked and answered. If you're still stuck, you can make direct contact with their support for a quick and friendly answer.
Wix will definitely remain a popular choice for website builders. For small personal accounts, the advertising might not be as much of an eyesore. But anyone serious about their design or those running a business, we recommend moving above the Basic plan and building the site the way it's meant to look. Using a mid to upper level plan and making frequent use of their support options should guide you toward a tasteful and functional website.
Copyright © 1998-2021
Apycom
(menus)