Weebly free website builder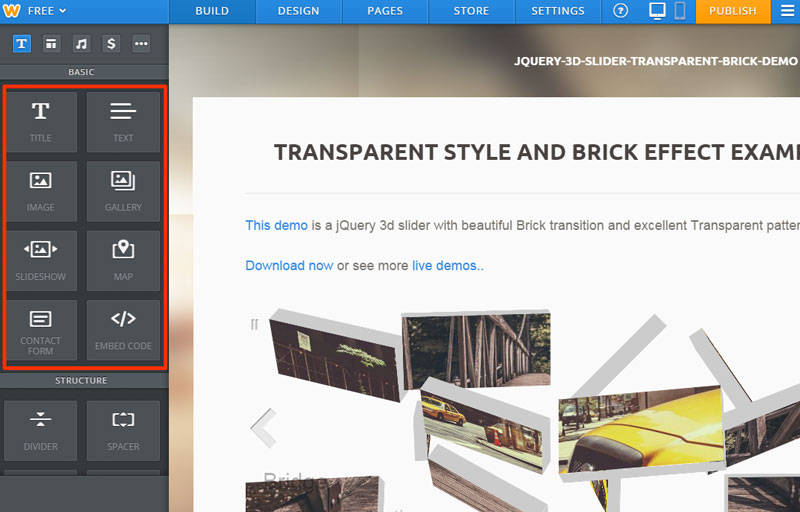 Weebly's "What You See Is What You Get" (WYSIWYG) webpage editor makes it extremely easy for people without any web development experiences to create their own websites. On this particular platform, people simply drag and drop "modules" (photos, videos, text, etc) onto a canvas to build their site. The tool allows novice to visually place these modules where they want without writing a single line of code.
The benefit of systems such as Weebly provide quick deployment of websites on various levels. From a personal blog to an e-commerce site, Weebly is essentially a swiss army knife for anyone that just wants to build something quickly either for free or at a bargain.
In terms of a blog or personal website, Weebly free website builder offers plenty of features that allow a site to grow gradually. Free users aren't capped on the numbers of pages they can have, but many bloggers often don't have time to create hundreds or thousands of pages per month. As a matter of fact, many bloggers rarely go over 2-3 blogs per week! For a blogger, growing a website and building a web presence with Weebly responsive css menu isn't a terrible idea—it's actually a pretty good idea. What's better than free hosting and unlimited pages?
Weebly isn't just for starters, it's a platform that adapts to anyone's evolving needs. If a blogger decides he wants to add more customization such as custom domain and footer, then it'll be just $4 per month.
Users that want to utilize Weebly as an e-Commerce platform will have to either opt for the Pro or Business package. The Pro option allow people to post up to 25 items on its e-commerce platform, where as the Business package removes that limitation and people can sell as many items as they want. The Business package also removes item restrictions (letting you sell digital goods), and it adds on other features such as inventory management, coupon codes and shipping & tax calculator to make your e-store appear legit.
Oh, we almost forgot to mention Weebly's platform also has mobile development integrated so you don't need to worry too much about tweaking the pages to work well with iOS or Android devices. Weebly the distant on this as it has a feature that lets you preview how your page would look like on a smartphone screen.
To be quite frank, it doesn't get any easier than Weebly. For $0 to $25 a month, people can create anything from a personal blog to a full-blown e-commerce site. Everything is visual so you'll never have to mess with a line of code, and the prebuilt themes it offers isn't too shabby either. People that want to venture into the world of tinkering with the HTML can do so. If a template isn't up to par with someone's standard, he can manipulate the elements in HTML and go back to the visual editor when done.
As with anything else, Weebly has a learning curve, but it's so small that most people shouldn't run into any issues picking up the basics in an hour or two. Within a day or two, most Weebly users could consider themselves "web developers" even if they don't know how what CSS and HTML are.
Copyright © 1998-2021
Apycom
(menus)