Best website builder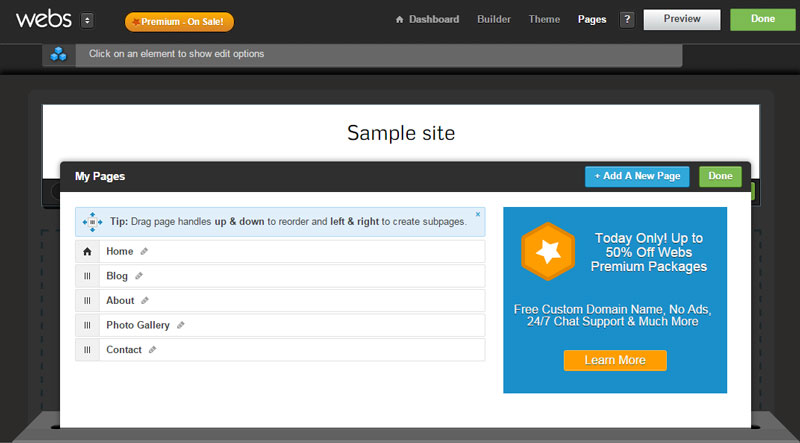 Gone are the days when building a website used to be an arduous and complex process reserved for the most skilled team of both designers and web programmers. Now days almost anyone can build their own website without any coding or design experience.
With Webs all of the structural components that make up the web have already been designed from the ground up and are provided to you, the end user, as a vast selection of editable themes coupled with an easy to use web interface that enables you to create a completely unique and branded website from scratch without any prior experience of traditional web technologies.
Customizable Themes
The key component of the website builder is the huge selection of customisable themes that are available. To get started you simply need to browse through these themes, which are also grouped by category and searchable by keywords, and pick the one that best suits your business. Once you have chosen a theme you can customise it in order to make it unique.
Social Integration
All of the Webs themes come with full social media integration allowing your website readers to share and discuss your content on popular platforms including Facebook, twitter and Instagram.
Full Ecommerce integration
The Webs platform also provides full ecommerce integration allowing you to not only build a branded website with no coding skills but also a fully functional ecommerce platform where you can sell your products and services online. With the Pro package you can list an unlimited number of products for sale in your store whilst also taking advantage of the robust ecommerce solution offered by Webs.
Search Engine Optimization
The Webs SEO plan will give your new site the kick-start it needs in the search engines and comes complete with both national and local search optimisation services.
Visitor Statistics
All of the plans come with a powerful visitor tracking solution that provides a deep insight into your visitors and allows you to develop and tailor your website to your visitors' exact requirements.
Ease of Use
The Webs best website builder interface itself is very easy to use and makes designing and launching your new website extremely easy and intuitive and at the end of the process you will have a fully functioning, branded website that works across all devices from desktop to mobile.
Pricing
Pricing starts at just $5.99 / month for the basic package and go up to $22.99 / month at the top end with features including the SEO plan, ecommerce store with unlimited products and full support via email, live chat and over the phone.
The website builder provided by Webs slider bootstrap is an extremely appealing platform that has been extremely well designed, is very easy to use and really it is helping businesses and individuals all around the world to launch professional websites without the need to go to expensive design houses. Not only does this make it much more attractive for businesses to have a presence on the web because of price but it also allows businesses and individuals to have a much more direct relationship with their web presence – allowing them to influence the design much more closely than they would be able to through a traditional website design company.
With its rich features and unbeatable pricing combined Webs is really revolutionizing the way that the web itself is being built and has positioned itself as a pioneer of the new web platform that will bring the power of the internet as a marketing tool to businesses and individuals world wide.
Copyright © 1998-2021
Apycom
(menus)