eCommerce website builder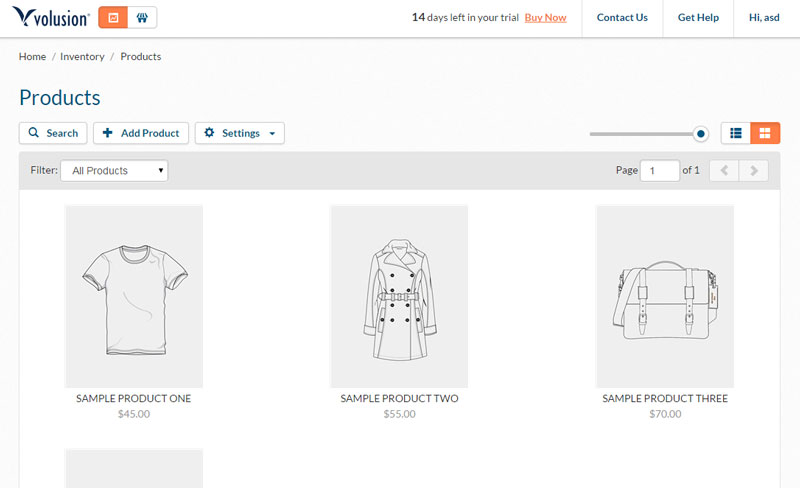 Overview
Volusion offers businesses a solution for their e-commerce and web design needs. Offering competitive rates, several packages, and an easy-to-use interface, Volusion helps business owners create an online face for their company that is both elegant and hardworking.
Main Features
Volusion features a masonry gallery of no-code-necessary templates and themes that business owners can easily tweak to customize. Backed by e-commerce software, Volusion helps business owners simplify their operations with inventory management features, order processing, payment collection, shipping, and more.
Ease of Use
Aside from honing in on a gallery of nice looking themes and robust e-commerce software, we feel that a major selling point for Volusion is its ease-of-use. This platform is designed so that virtually anyone can jump in and get going. No coding experience is needed with this plug-and-play system. As long as you can point-and-click, you can use Volusion to set up a website with all the e-commerce bells and whistles you need.
Mobile Friendliness and Responsiveness
Websites created with Volusion are responsive on the devices that consumers are using today: smartphones, tablets, laptops, and more. Volusion recognizes that businesses need to be visible across all platforms, so they make sure websites have max visibility to help increase conversions and sales.
Search Engine Optimization
Volusion ecommerce website builder does provide SEO. Not only does the context and hyperlinks of each webpage contribute to search engine optimization, but the fact that websites are mobile-friendly helps boost SEO.
Pricing
This web development and e-commerce platform provides competitive pricing for 4 packages. Customers can try Volusion 14 days for free before opting for one of the available packages:
- Mini ($15/month or $13.50/month, billed annually): Unlimited storage, no transaction fees, 100 product listings, online support, social media tools, Facebook store, mobile e-commerce, and automatic tax rates.
- Plus ($35/month or $31.50/month, billed annually): Everything in the Mini plan plus 1,000 products, phone support, newsletters, ratings and reviews, abandoned cart reports, and import/export.
- Pro ($75/month or $67.50/month, billed annually): Everything in previous plans plus 10,000 products, priority support, Amazon and eBay integration, API access, and CRM.
- Premium ($135/month or $121.50/month, billed annually): Everything in previous plans plus unlimited products and dedicated account manager.
Conclusion
All in all, Volusion offers the best of both worlds for business owners who need a reliable do-it-yourself platform. Websites created by Volusion are contemporary and have maximum visibility across the web and a variety of hot devices, making this a win-win for business owners who need to get noticed without paying a fortune.
Copyright © 1998-2021
Apycom
(menus)