Online website maker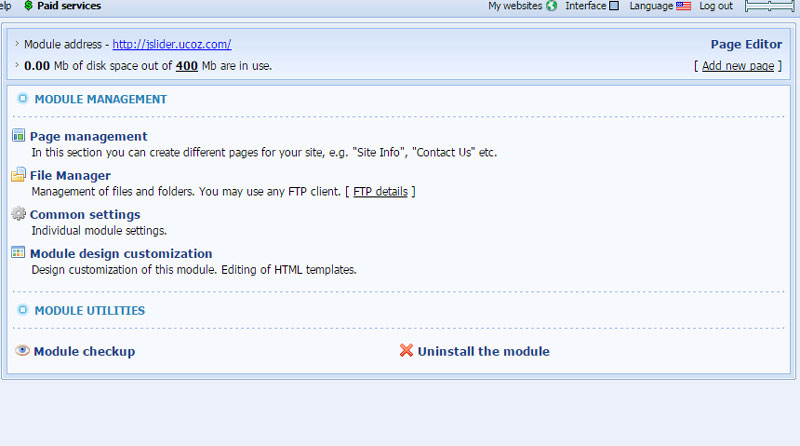 Overview
Talking about software for web design, we just can't miss uCoz. It's a popular website builder suitable for various web-based projects, both new and existing ones. The good thing is that you can use it even if you don't have any experience as a developer. However, uCoz best free website builder is also useful for people with more advanced skills in web design. But let's cut the small talks and review this application in details.
Main Features and Theme Collection
Probably the most exciting thing about uCoz is that can build almost everything fast and effective. The website builder is equipped with modules for different web projects, such as eCommerce, forum, guestbook and many more. You can easily combine them with the large collection of themes and templates to produce fully functional and well designed website. On the other hand, the application offers accessibility to the code. This feature is perfectly convenient for web designers who want to customize their project further.
Is It Easy to Use?
Non-tech people and web design rookies will probably love uCoz. The admin panel is quite intuitive and simple. You won't see a complete drag-and-drop editing which is widely used in many other website builders. However, we know that things can get really messy with such feature, so this platform tries to combine both experiences and enhance them for better results. uCoz is flexible application that may seem rather complicated at first, but in fact it's easy to grasp even for newbies.
Mobile Friendly and Responsive Solution for a Website?
As in most website builders out there, you can certainly explore the huge collection of theme templates. There are both free and premium and most of them are fully responsive and mobile-friendly. It's great that the creators of uCoz actually provide great themes for free and don't try to milk their users for more money.
What's the Pricing?
When it comes to costs, well, here are the good news – uCoz is FREE. Of course, the free version is limited compared to the other packages, but it's enough for a good and working website. You can easily explore uCoz's freemium, build a few websites and then switch to the most suitable paid version of their service. The premium accounts are paid monthly and offer different extra features as well as great deals for per-paid subscriptions.
Any Good for SEO (Search Engine Optimization)?
Nowadays, we all know the importance of SEO for any online project. The team behind uCoz website builder have thought about it and added some nice optimization features. The platform supports robots. txt, SEO-friendly URLs, entirely editable meta tags and many more for better performance on the search engines.
Conclusion
uCoz online website maker is surely not to be missed. The product is great web design solution for both beginners and pros. It clearly has many advantages compared to other applications for website creation, and most importantly – for free. So a big YES to uCoz website builder.
Copyright © 1998-2021
Apycom
(menus)