Website creator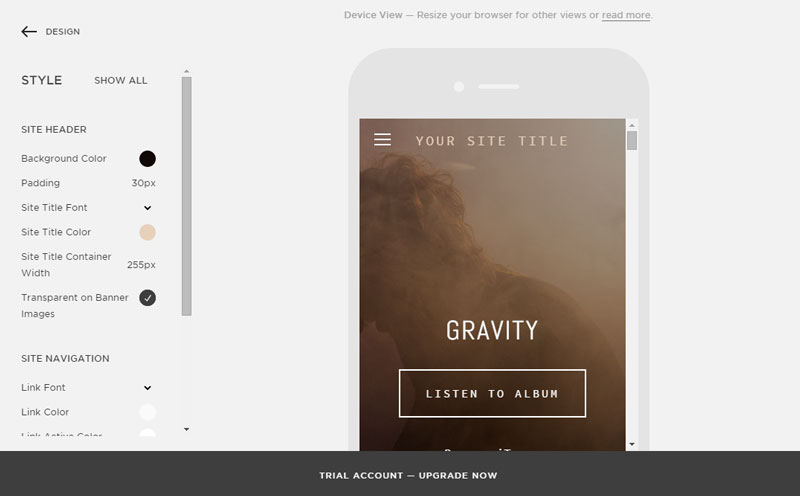 Squarespace is another simple to use website builder that promotes user friendly drag and drop features, visual appealing templates, a 14-day free trial as well as boasting an "all-in-one" platform where you can post images, videos, pages, a blog and even a gallery.
Templates
With the new re-design of Squarespace 6 to Squaurespace 7, there are now 32 templates to choose from that all have their own unique structure, all being sleek and minimal. There are no templates that are crowded as all of the templates to choose from are responsive, mobile ready and can easily be stylized with the style editor.
Style Editor
You are able to customize the spacing of the header, set typography settings to create a strong sense of presence, change the logo height, font and letter spacing and even customize the navigation background, type and hover options. It is easy to see what you are able to customize as the sidebar lists all of the elements available for edit, which is pretty much every aspect of your template.
E-commerce Options
Squarespace can be used to sell physical, digital products as well as services, with a ton of different customization options such as e-mail receipts, additional fields within the checkout form, as well inventory management. What makes Squarespace great is that it even allows for taxes to be taken into account.
Although there is one drawback to the commerce platform that Squarespace offers: it only uses Stripe as the processor for checkout. Now Stripe is a very adept and easy to use e-money processor, so there should be no problems with it. However, it's also not offered in every country.
Main Features
Rich Blog Features,
Robust e-commerce platform,
An easy to understand website builder,
Style Editor for Templates,
Retina images,
A donation system for alternative checkouts.
Pricing Plan
Personal ($8/mo): Comes with the ability to have up to two contributors on the website, who have access to over twenty different page designs that you can add to your website. There is a jquery gallery function that you can add, as well as a blog portion for those wanting to start up a blogging centred website. You have access to listing one product through the integrated e-commerce system, as well as be able to accept donations to your website. Unlimited bandwidth, storage is a plus with the personal package, as well as mobile optimization and 24/7 support.
Professional ($16/mo): Comes with the ability to add an unlimited amount of pages to your website, and have an unlimited amount of contributors to the gallery and blog portions that you can set up. You can list up to twenty different products on your website through the integrated e-commerce platform which is optimized for mobile. Along with unlimited storage, and bandwidth, you get a custom domain, and 24/7 support.
Business ($24/mo): Is the full package with a fully integrated e-commerce platform where you can sell an unlimited amount of products, add on real-time carrier shipping and even have integrated accounting and label printing as options. The website will be optimized for mobile, and you will have an unlimited amount of pages, storage, bandwidth, and contributors (option). It also comes with a custom domain option and 24/7 support.
Overall
Squarespace website creator offers a feature packed website builder, for an affordable pricing plan!
Copyright © 1998-2021
Apycom
(menus)