Free website creator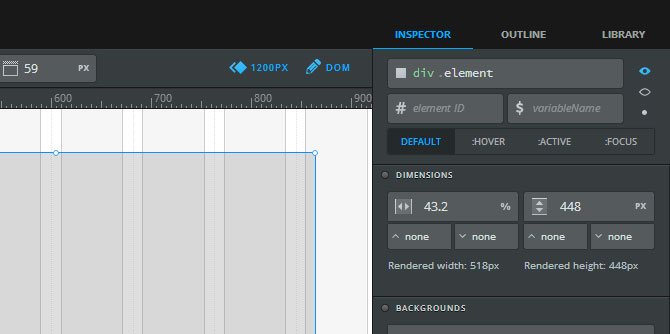 Website design shouldn't be all complex and difficult. In fact, with how far we've advanced with technology, things like website building should be simpler than ever. It should be as simple as opening up a program, and visually building a website without the non-sense and headaches of special CSS coding and HTML mumbo jumbo.
That's where Macaw website builder comes into play. It's created by web developers and designers but is made simple to use for regular people who aren't experts in coding.
Macaw is all about keeping things simple with its savvy design tools while being responsive with the website design.
The biggest problem that this browser based builder solves is making fluid layouts, building responsive design and handling breakpoints without having to leave the application. Here's my Macaw website builder review…
Main Features of Macaw Website Builder
With Macaw, building visually appealing websites is much easier than with most programs. This program promises to make the process simpler and there is no doubt that it has succeeded doing so. If you need to build websites quickly while maintaining quality, Macaw is perfect for the job.
The coding is much cleaner as there are fewer <div> tags and turns what you design into HTML and CSS coding.
It does the hard work for you, while you only have to do the designing. After drawing what you want, it turns it into coding. Knowledge of coding is truly not needed with Macaw.
More features of Macaw website builder:
Interactive – allows you to add scripts and set variables with efficiency
Pages – can be saved into one document and can be shared
Positioning – allows for dynamic layouts while using static and absolute positioning
Components – enables re-use for any elements that you want to save
Responsive – displays your site on any device and any size of screen
Typography – lets you use web fonts
Global styles – modify multiple elements in one place
Multi-purpose themes – you can create bootstrap 3 carousel, themes that are used for any purpose
As you can see, the features are truly useful for anyone who wants to build websites with complete ease and simplicity. This is perfect for those who are comfortable with design, rather than coding.
Ease of Use
Macaw free website creator makes it truly easy to design websites as there is no need for any knowledge of coding. If you're comfortable with paint programs or Photoshop, you will find it just as easy to use.
If you use Macaw, expect full control of the layouts, and just about everything for your website design. You can literally turn any design into coding with the help of this website builder.
Mobile friendliness
This is one of the main features of Macaw. It allows you to create any design while remaining responsive on any device, even mobiles and tablets. It features easy to use breakpoints to optimize your site for any device.
Search engine optimization
While Macaw features a code-free way to design websites, it still turns the design into HTML and CSS so it does have SEO benefits. Since you don't have much control over the coding, SEO might not be the best feature of Macaw but it still does hold many advantages as it turns design into coding.
Pricing
Macaw comes with a free trial so you can try it hassle free for a limited time. If you were to purchase it to learn more about it, you would have to purchase the learners kit which is $99. For commercial purposes however you would be better off with the professional license which allows use for one person. The professional license costs $179, and goes up if you have a team.
Conclusion
While there's always other ways to build websites, Macaw is one of the few, or the only one that features a code-free way to design websites. This is one of my favorite features of the product and would recommend it to anyone who is just starting out with website building. This review for the Macaw website builder should prove that this is perfect way to build quality websites quickly.
Copyright © 1998-2021
Apycom
(menus)