Free online website builder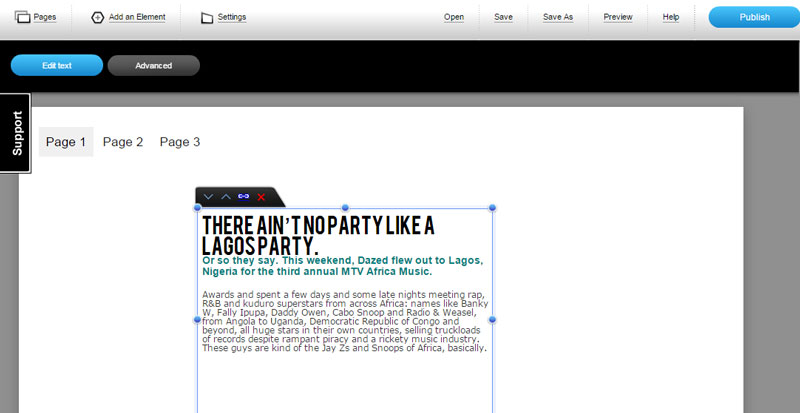 Overview
Unless you are a web designer or developer building a website can become an entirely frustrating process if you need to start from the basics of HTML, CSS, PHP, and the likes. Let's assume you do not want to go through the stress of doing it yourself. You will need the services of a developer. This will cost you time and money, and in some cases you may need to perform several reviews with your developer before they give you want.
How will you feel if you can build your website by yourself with little or absolutely no technical know-how? This is the challenge IM Creator has come to address. Although, IM Creator is relatively new in the Website Builder industry, they have carved a niche for themselves.
IM Creator is a website builder that allows users create simple, yet professional websites with hamburger menu in three simple steps – select a design, customize, and publish.
Main Features
The main features that have helped IM Creator penetrate the market are its simplicity, and professional look. There is a variety of free templates to choose from.
Ease of Use
IM Creator free online website builder is extremely easy to use. However, this does not come without a price. IM Creator operates through a visual editor (WYSIWYG), and most features can easily be dragged from the toolbar and dropped on the page. The truth is that it is so basic that you cannot get lost.
Responsiveness
It will make a lot of sense if IM Creator scales through this hurdle. Websites created using this builder are mobile ready but not responsive. What this means is that your pages will not be auto-arranged to fit much smaller display sizes like mobile phones.
Another limitation in IM Creator is that you can only choose one template option per website – either desktop friendly or mobile friendly.
Search Engine Optimization
IM Creator is somewhat limited in the area of SEO as users are only allowed to include one title, set of keywords, and meta description.
Pricing
They have three price plans – I-M, Premium, and Pro.
I-M: This plan offers you a free domain under i-m.co, 50mb hosting, and unlimited template options. It is free.
Premium: This is the most popular IM Creator price plan. Users enjoy custom domain, unlimited hosting, customized email account, and unlimited templates. It costs $9.95/month on biannual payment. N/B: There are other price options for this plan which offers users more discount.
Pro: The Pro plan is best suited for professional web designers and developers. It enjoys the same benefits as the Premium plan with added multiple domains. You may have to call them to bargain on this one.
Conclusion
Despite some of the obvious limitations of IM Creator, it is a very intuitive and classy website builder. IM Creator allows you gain online presence without going through the steep learning curve of web design. It is a lean and basic website builder best suited for professionals and small businesses.
Copyright © 1998-2021
Apycom
(menus)