Website builder free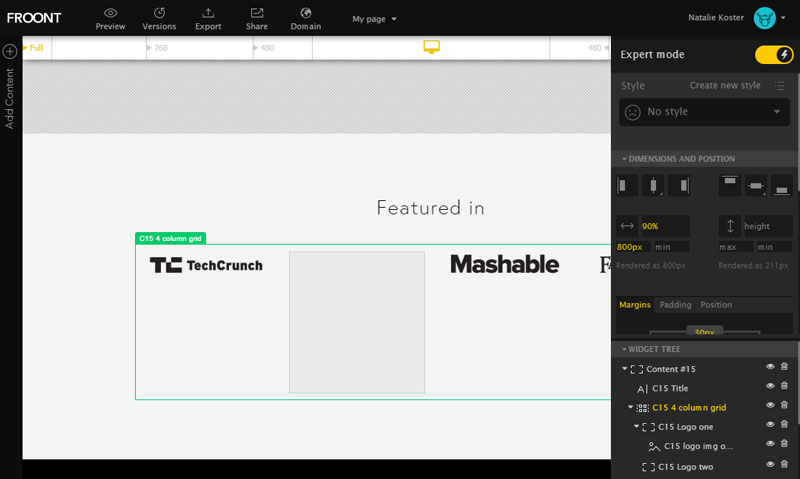 Overview
We have all seen the variety of website building platforms available to developers on the market. There has been little to choose from other than the brand that you might prefer. That is until now, thanks to froont.com. With their offer of responsive themes, a carefully structured, 4 tier pricing model and some of the best support in the industry, froont are really leading the way in professional, high quality open source designs, with your client's satisfaction and your ease of use uppermost in mind. This is my honest review following a thorough trial of all the facilities available from Froont.
Main features & Theme collection
One of the most useful features here on froont.com is that all design is open source. As designers you will realise the importance of open source design to you and your client both in terms of catering for immediate requirements and planning for longer term enhancements and modifications. Many platforms out there do not offer open source design, and charge a lot of money for what can be viewed as a much more creatively restrictive platform.
The main aim of Froont website builder free is to offer a platform with a huge variety of responsive themes which you can use as a starting point for further design. Froont are not trying to entice you away from Photoshop and other tools that you use successfully, but rather we want to work alongside those tools, adding value to your organisation.
Froont do not ask us to download any software – everything is web based (Chrome at the moment but additional browsers will be supported soon)
To see how professional the sitebuilder at Froont is – unlike many others, their website is designed entirely using Froont which is novel, because many sitebuilders do NOT use their own software to build their own site – probably because the builders' are largely unimpressive. Froont do NOT come under that category.
Froont.com allows you to share your work for review, for colleague feedback or for any other purpose. They will provide a url for that purpose, or if you use the pro package, then you can use any domain that you own.
Ease of use
Froont have designed their software with our ease of use at the top of their priority list. It fits nicely within our workflow, offers tools and features unavailable elsewhere. The entire site has a very robust, solid feel of quality which makes us want to use it over others we have used in the past. Remembering the volume of work we have at any given time, it is essential that as we start utilising new tools, such as froont, that they fit nicely and complement existing tools that we use.
While froont can be used end to end for the whole design process, it is meant more as a starting point which allows you to export and enhance your code if you so wish. I am using it on the freelancer package and I can say with all honesty that it is helping my organisation to really streamline our processes, work smarter, and provide the very best for our clients. We would not be able to do this if it weren't for the all important ease of use, the open source design, the sharing facility and the 1st class service and support that Froont offers.
Simply, this is the best sitebuilder we have used and complements the business excellently without trying to lead us away from tools we use and trust.
Mobile friendly / Responsive
Everything we do on Froont has responsive web design at its very core. Oh sure, there are themes out there which are responsive, which you can take right off the shelf – but more often than not they require considerable customisation, they do not offer open source design for you to make those customisations, and so the quality of offering often doesn't meet every requirement our clients have. Froont allow us to choose a theme and make it as responsive as we like, focusing on the areas that are important to our clients and this is quicker than making customisations to off the shelf solutions. And then you can save your work, share your work and the more you use it, the faster and more confident you get with the system. The proof of the pudding is in the eating, and I would suggest that every developer gives Froont a go – you can start off free to try the system out, or you can take a 14 day free trial on the freelancer package. However, More about prices a little later.
All themes are designed to be mobile friendly, as smartphones now take a huge chunk of daily browsing activity as people use the web when travelling, or in their downtime.
SEO
Every aspect of every theme and every function has been designed to enable you to get the best SEO results from every site you design. Froont seem to understand the importance of SEO better than most, and as a dynamic, engaging provider, have managed to enhance the SEO abilities and performance of their sites.
Free vs Premium
There is a free option to get started and then there are 3 additional tiers to choose from depending on your own requirements. You can check out the details of all the pricing plans by visiting www.froont.com – suffice to say that with the Scout package starting at $9 per month, offering far more functionality, via the freelancer package at $19 per month with a 14 day free trial, right up to the agency package offering unlimited everything at only $49 per month. I started with the free package, to try it out, and within 3 days upgraded to freelancer, and have used it daily since, and do the vast majority of the "Bare bones" work on froont and then make enhancements myself, which, being open source, I make widely available for other designers.
Personal impression
I have used a lot of these sitebuilders over the years, and without doubt Froont.com offer me the best facilities at the best price allowing me to offer the best work to my clients every single time. If we look at the price of Froont and look at what is provided for that price it is clear that we get a lot. I pay $19 per month and produce around 25 websites per month between 3 of us. The cost of this works out at an overhead of less than $0.80 per site we design. This really is negligible when we consider the facilities, support and quality of platform.
Froont have given us quality and provided a valuable new tool which we would not like to be without now.
I have no hesitation whatsoever in recommending Froont to every designer and freelancer out there – the fact that you can try it out for free means no risk – give it a try and see how quickly you fall for it and switch to Froont as your main starting jquery mobile menu block.
Copyright © 1998-2021
Apycom
(menus)