Bootstrap builder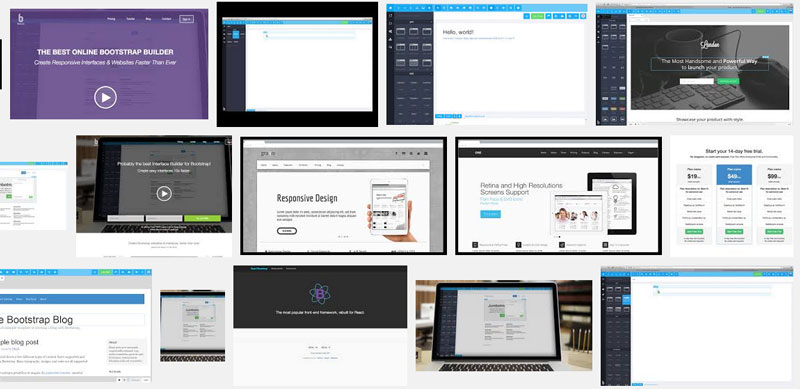 Overview
Innovations in software and website development have pioneered seamless building of websites. Several tools/platforms are being utilised by designers and web designers to enhance the design process. Brix.io is one of such tools.
Brix.io is a cloud-based Bootstrap Builder that allows front-end designers and developers create responsive applications; website or mobile on a Bootstrap framework.
Main Features
It is cloud based – meaning it is secured and can be accessed from anywhere
It does not require any form of installation to work with
It works on a "what you see is what you get (WYSIWYG)" system
Has over 200+ Bootstrap components
Very easy to use – drag and drop feature
Allows real-time collaboration with team members working on the same project
Supports easy editing and deployment
Ease of Use
Irrespective of the great features that come with a product, it will be less effective if it is difficult to use. Great features when combined with positive ease of use can drive sales of a product through the roof. One of the features that make Brix.io stand out is its ease of use. It is built on the latest standards of interface and makes building sleek and responsive websites relatively easy.
Responsiveness
Brix.io allows users create websites that are optimized for all devices – computers, phones, and tablets.
Pricing
Brix.io has three pricing options – Personal, Freelancer, and Unlimited.
Personal: Supports 1 user, 1 active project, unlimited screens, SSL security, and a custom domain. It costs $4.90/month.
Freelancer: In addition to personal features, Freelancer pricing allows up to 2 users, 5 active projects, real-time collaboration, and up to 8 reviewers. It costs $14.90/month.
Unlimited: This pricing option supports up to 4 users, unlimited active projects, unlimited website builder review, plus other features contained in Freelancer pricing. It costs $49.90 per month.
N/B: Brix.io allows a 14-day free trial on all the pricing options.
Conclusion
Brix.io bootstrap builder is a nice Bootstrap Builder with so many features to assist web developers. It is very easy to use, which is a plus for the developers. However, the price is on the high side when compared with other Bootstrap website builders.
Copyright © 1998-2021
Apycom
(menus)